September 6, 2016
From the Booth: A Pre-Harvest Hello
---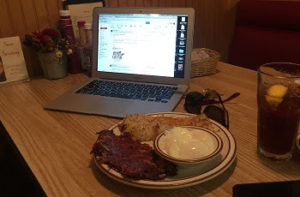 Harvest! One of my favorite times of the year is nearing. Since it is so near, I wanted to take a moment, have a wholesome breakfast and drop you a line from the booth of a roadside diner to share with you a little bit of what is currently happening out among the vines and highways of the Central Coast.
The 2016 vintage is starting to show it's potential. Pinot Noir is now starting to develop some great flavors. Especially from Escolle Vineyard in the Santa Lucia Highlands. This site is a wine makes paradise. Fifty or so rootstock/clone variations, and farmed to a tee. Such a beautiful part of the state as well. For those who don't know much about SLH, it is the mountain range just west of the Salinas Valley. A vast land where 75% of the world's produce comes from. It is also riddled with old California Highways and back roads. It has been a great experience to explore this area by getting a little lost. I have grown a huge appreciation for all the hard work that goes into feeding families all over the globe. One of the cool things about all of this is that many of the same families that farm this valley are the same who are growing the grapes. The same work ethic and generations of experience are what is being implemented into these vineyards. SLH still has the "good ol' boy" mentality.
Meanwhile 170 miles south in the Sta Rita Hills things are moving a bit slower, but nobody is complaining. One of my favorite things about this region is the ability to hang fruit a bit longer. This is a big reason why the wines from here can be so concentrated. Flavors are still a little ways out. Fruit set is looking awesome, and things are almost done coloring up. I'm expecting great things from both Radian and Kessler-Haak this year. Stay tuned for updates on those. As well as the many Syrah, Grenache, and Mourvèdre lots, that are still a ways out.
In other news. Our building is almost done!!!!! Although we will not be able to utilize it for this harvest, we do expect to host tastings there very soon. This is a dream come true for me, and I still have to remind myself from time to time that it is indeed happening.
Though the next few months will be busy, I always have time for you as sharing my wines is also one of my favorite things to do. Next time you are heading to Paso, please contact me to book an appointment. Just send me a tasting request and we'll set up the tasting.
From the booth and until next time,
Tyler Russell
The Ramblin' Winemaker