December 29, 2020
Beef Wellington
---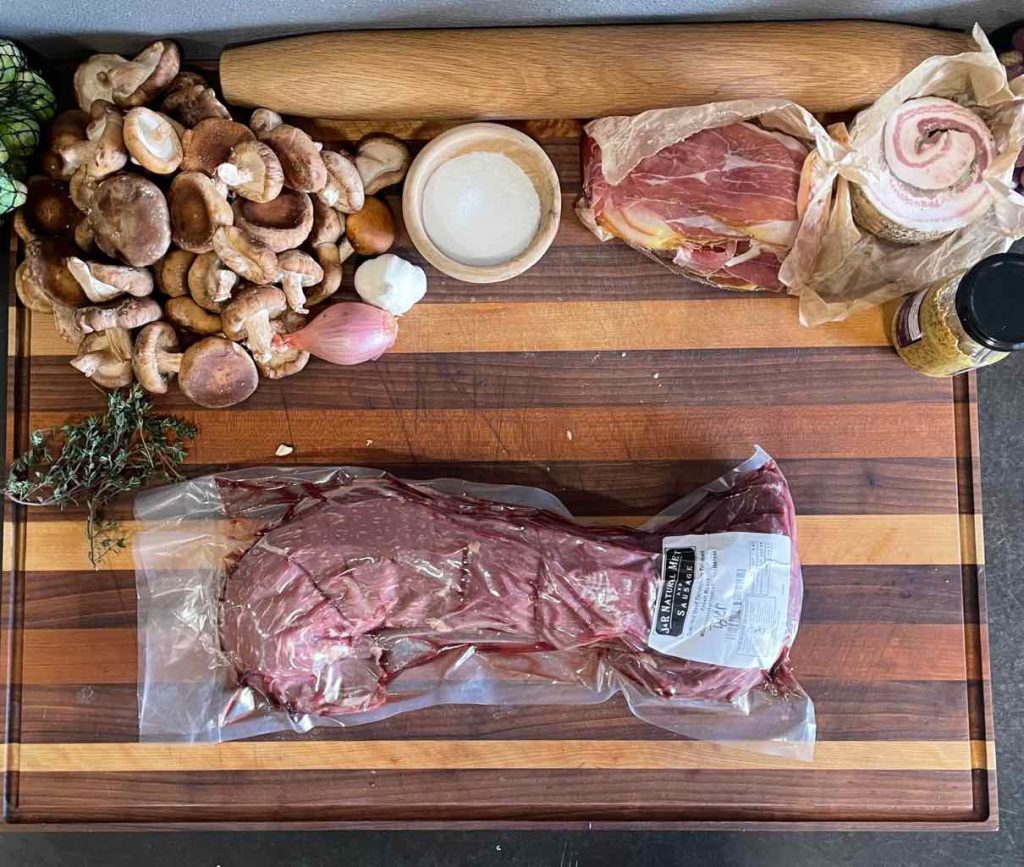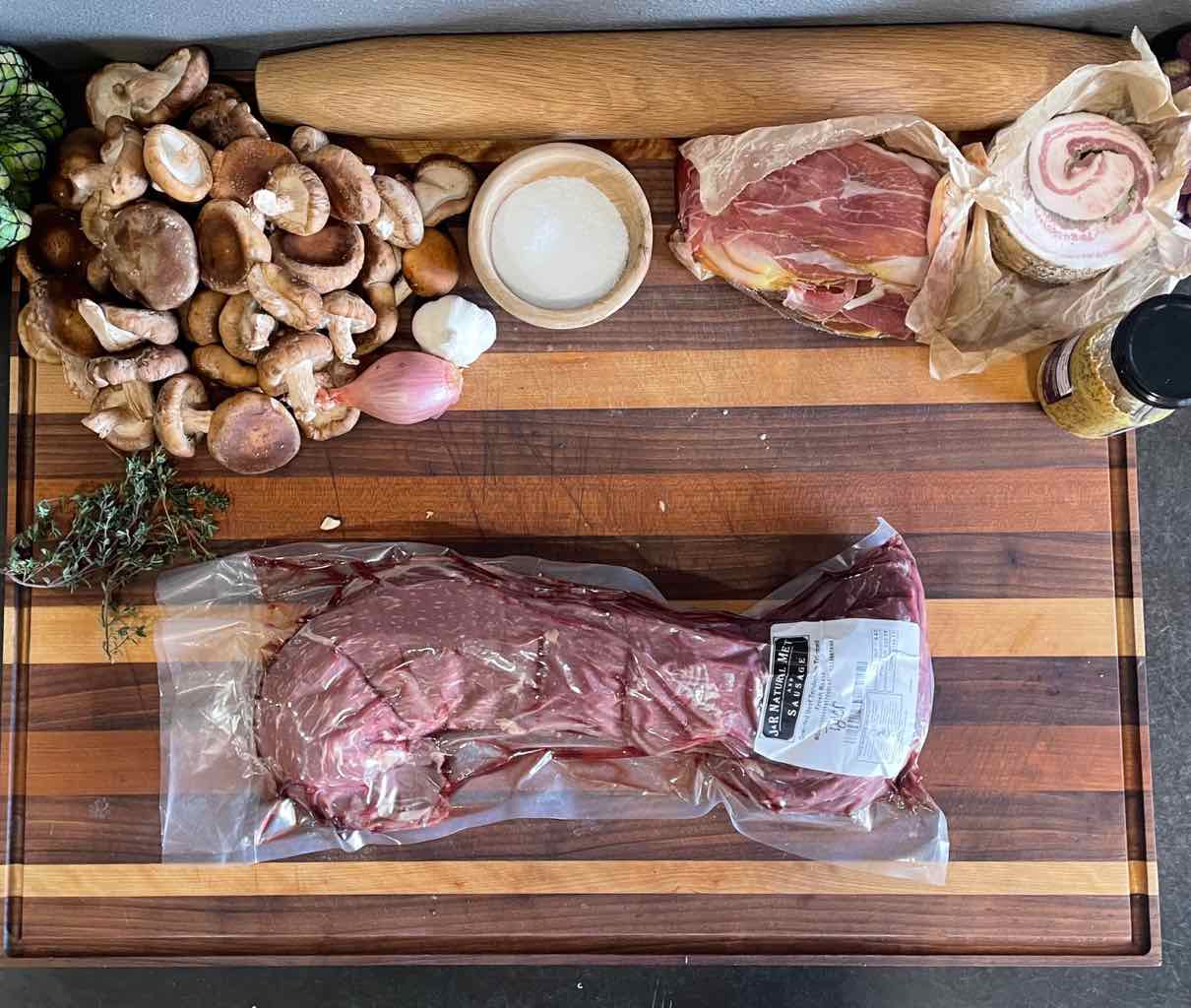 Having a full, functioning kitchen in the winery has been a great contribution. I have always subscribed to the idea that wine is food, and the bond between the two are crucial. Being able to cook meals in the same place we make our wines provides an energy that is hard to explain. Even better is the feeling of sitting down and eating said meal. I was raised to believe that the soul of the house is the kitchen. This I believe it to be true for the winery as well. So many great meals have been made here. But every so often, when things quiet down, we attempt something a little more labor intensive.
One thing I've always wanted to tackle is Beef Wellington. This is for sure a dish you need a reason to make. Not something you would typically just throw together or something you see on a restaurant menu. One thing about it though – it's a very rewarding meal – decadent and delicious! It's also a dish that screams for wine being enjoyed with it. We chose to pair our beef wellington with Our 2017 Central Coast Syrah, Our 2018 Radian Vineyard Pinot Noir and a bottle from the cellar, a 2016 E.Guigal Vignes de l'Hospice. One thing I always advocate for when pairing is to have options. Each wine offers a new flavor experience in every bite. We also paired this day with selections from my collection of Blue Note records. Jazz and cooking is never a bad idea. Check out the playlist following the recipe for some of the standouts throughout the day.
Beef Wellington
Ingredients
3-4 pound Trimmed Center Cut Beef Tenderloin Roast
1 ½ pounds of Fresh Mushrooms
1 ½ pounds of Prosciutto
Butter
Olive Oil
Salt
Pepper
Fresh Thyme
3 Cloves Garlic
Quality Mustard
1 Package (2 sheets) puff pastry
Flour
1 Egg
Equipment Needed
Large Skillet
Food Processor (Very helpful but not mandatory)
Rolling Pin ( or empty wine bottle)
Roasting Pan with Rack
Saran Wrap
Step one: Add mushrooms, a few cloves of garlic, and a desired amount of thyme to a Food processor and finely chop the mushroom mix. We did not have a food processor, so we just chopped everything with knives. Over medium high heat add butter to the skillet. Enough butter to coat the pan lightly. Add mushroom mix to the pan and stir occasionally. Enough to not burn the mushrooms. The point of this is to get the moisture out of the mushrooms. So do not stir too frequently. Once the mushrooms are reduced, about 25-30 minutes. Place in a bowl and set aside to cool.
Step two: In the same large skillet add a small amount of olive oil to the pan enough to coat evenly. Take the beef tenderloin roast lightly salt and pepper. Brown the roast over medium high heat a few minutes on each side. Set aside to cool.
Step Three: Roll out a generous amount of Saran wrap onto a food safe surface. Lay out prosciutto across the plastic wrap up and down long wise. With a top row and a bottom row. Overlapping slightly. Once the mushroom mix is cooled, spread over top of the prosciutto. Leave an inch one the top and bottom of the prosciutto uncovered.
Step Four: Take the roast and lightly coat with mustard. We used a stone ground mustard but any quality mustard will do fine. Once coated, place roast in the middle of the mushroom and prosciutto. Carefully lift Saran wrap over the top of the roast covering it tightly with the mushroom and prosciutto. Cut off any excess on the side leaving enough to cover the ends. Place in the fridge and allow to further hold its shape. This can be done hours before cooking.
Step Five: On a floured surface, roll out the puff pastry, wide enough to wrap around the roast. We used Trader Joe's frozen puff pastry and had to press together the two sheets. Remove roast from Saran Wrap and place on the roll out puff pastry. Wrap tightly cutting off any excess, leaving enough to fully cover the ends of the roast. Pinch together the puff pastry all along the roast. Beat one egg and brush all over, Score the top of the dish (optional).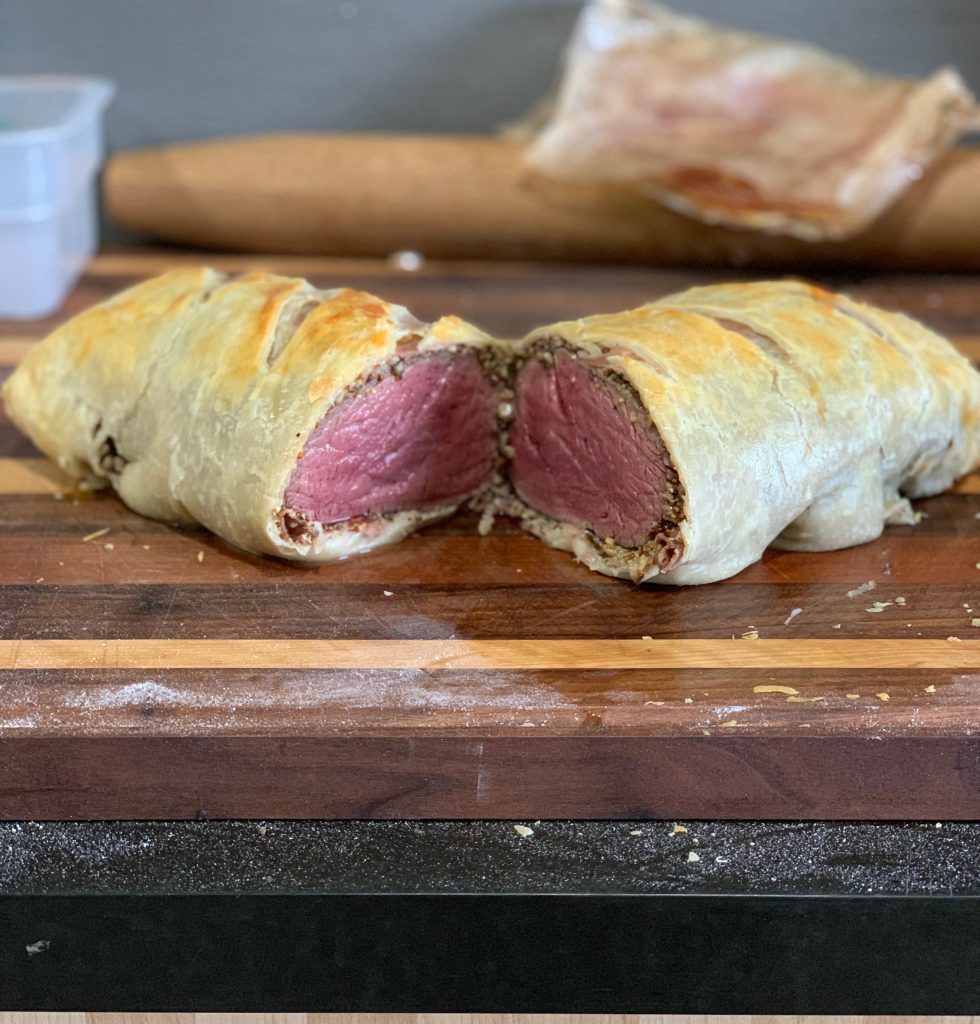 Step Six: Preheated oven to 425 F. Place the wellington into a roasting pan with a rack. Place into a preheated oven on the center rack. Bake until the pastry is golden, and a meat thermometer reads 125 F. About 40-45 minutes. Remove and allow to rest before cutting. Once rested cut into medallions at desired thickness.
For sides we prepared brussel sprouts with pancetta and balsamic, as well as peewee salt water potatoes. All this with good wines and shared with the team was a real treat.