November 9, 2022
THE HARVEST OF '22 CAME IN HOT AND FAST
---
"This harvest (crush) could produce the best wines we've ever made…."
– Winemaker Scott Stelzle on his 1st Cordant Crush
By Alan Goldfarb
The harvest of 2022 was winemaker Scott Stelzle's first for Cordant, and in his 23-year winemaking career he's never seen anything like what occurred during this year's crush. "It was one of the most unique harvest seasons we've experienced," he says. "We're used to having heat waves for three days, but this year we had 16 days that felt like being in an oven, and the nights stayed warm too. We brought in eight week's-worth of fruit in just over three weeks. I've never experienced that before."

In the end – when the wines from the hottest harvest on record are released in two-to-three years – despite the heat spike that wouldn't go away — the winemaker believes that Cordant wines of '22 "just might turn out to be one of the best vintages ever, and I wasn't expecting that in the beginning. I think it's going to turn out to be a pleasant surprise."
Although, as the saying often goes: this year's vintage is our best, but if you know Scott, you know there isn't an ounce of hyperbole in his assessment. Here's why:
"It was a very short vintage. The grapes (including my crew and me) took a beating," he explains. "But that could turn out to be a good thing. I wish I could find a way to make this happen every year."
"There's a good and bad side to that: We're going to work fewer days and longer hours (on 2-3 hours sleep each night, plus sometimes driving three hours to pick up fruit at one of Cordant's 18 different vineyard sources). We picked almost every single day for 25 days; normally 2-3 days a week is normal."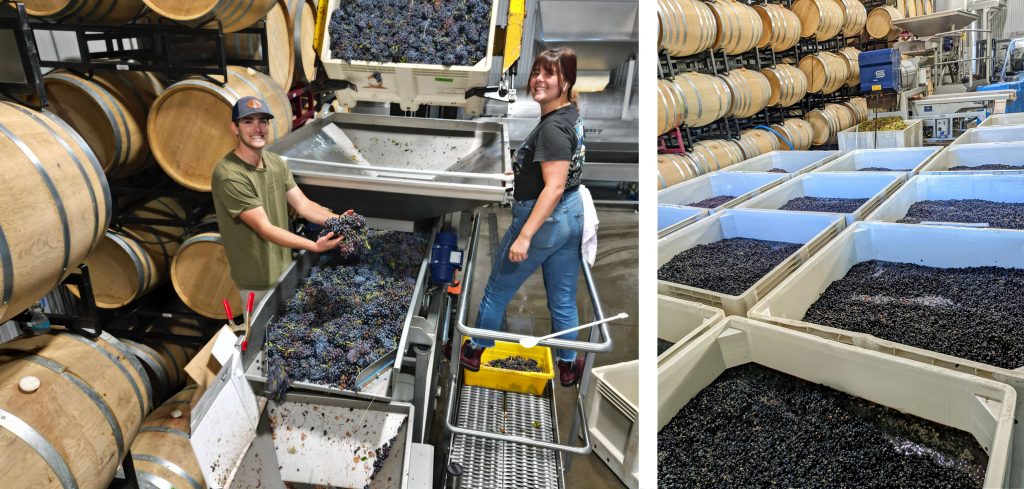 "But the jury's still out on what flavor profiles will emerge from the extended heat. Some of the chemistry numbers are perfect, but it depends on the particular vineyard they came from. The Pinot Noir numbers are picture perfect."
One of the Cordant's vineyards is the storied and historic Bien Nacido Vineyard in Santa Maria Valley from where Cordant gets Pinot Noir as well as Chardonnay.
"It could possibly be the best Pinot we've ever had," Stelzle conjectures. "There's also the excitement of all these vineyards I'm getting to work with. The fruit was phenomenal; it is spectacular. The conditions at Bien Nacido are the best of everything; everything about it spoils you. The terrain is extreme, and it's very dramatic."
What was also dramatic was the extreme heat this harvest season. The winemaker says he doesn't have anything with which to compare it. "I've been studying European data, and it seems there has never been a heat wave that I've ever seen like this. Nobody had 14-25 days of this kind of heat, anywhere."
Thus, he asks, "Is this an erratic anomaly, or is this our new future? I've never seen this anomaly occur in 23 years."
Cordant brought in its last load of grapes October 20 — before Halloween. "Which is insane," he exclaims; pointing out that we'll have everything in barrels two weeks before Thanksgiving, a full month earlier than a "normal" year.
But he concludes, "It could be the best year ever, one that we'll never be able to duplicate."


Alan's Thumbnail Bio
Alan Goldfarb is a longtime wine journalist. His work has been published by The Wine Spectator, Wine Enthusiast, Decanter Magazine, Alta Journal of California, and The Verge, among hundreds of others. Additionally he is now the publicist for Cordant Winery, through his All Media Winery Solutions agency.