July 5, 2023
Former Los Gatos resident wants 'best grapes possible' for his Cordant wines
---
David Taylor Founded Winery After Moving to Paso Robles
By Laura Ness, correspondent, as published on June 26, 2023 in the San Jose Mercury News

Former Los Gatos resident David Taylor might not have known it at the time, but the seeds of Paso Robles wine country that were sown when he attended Cal Poly as an electrical engineering major would blossom decades later into one of the most prolific wine regions in America.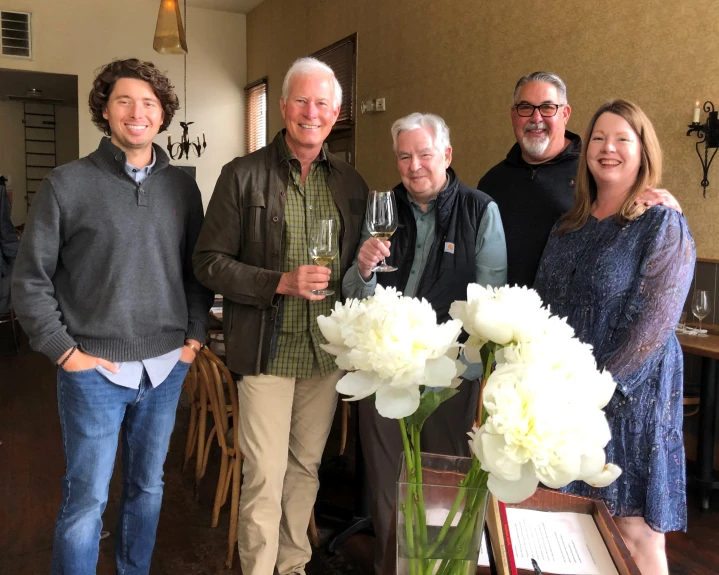 Taylor lived in San Jose and Los Gatos for 18 years, where he and his wife DeAnn raised their three children, before moving to San Diego and then to Paso Robles. His engineering career in Silicon Valley included stints at Cypress Semiconductor, GoPro, CineForm and C-Cube Microsystems.
By the time Taylor made his move there, Paso Robles was rocketing to popularity, not just in California but around the world. Taylor wanted to be part of something that would combine his entrepreneurial skills with his passion for pinot noir, so in 2014 he started Cordant Winery.
"The idea was always to find the best grapes possible for pinot noir, as well as Rhones," he says. "My vision was for a different style—not that big, jammy ripe style that Paso is known for, but
something with more finesse."

Finding the right sites became critical, and through research and connections, Cordant is now sourcing from vineyard sites like Bien Nacido, Coastview, Escolle, Radian and Solomon Hills. At a recent tasting at Heirloom Café in San Francisco, we tried barrel samples of 2022 pinot noir from Solomon Hills Vineyard (Santa Maria AVA) and syrah from Coastview (Gabilan Mountains AVA, a vineyard whose composition was heavily influenced by Big Basin Vineyards winemaker Bradley Brown). These samples are among the first wines made by winemaker Scott Stelzle, newly hired in 2021. He takes the place of Tyler Russell, the initial winemaker of record.

A former real estate developer who hails from upstate New York, Stelzle moved to Napa to apprentice in winemaking at Smith-Madrone. Land costs were much more attractive in Paso Robles than Napa, so he relocated, making his first wine there with the late Sherman Smoot at Bella Luna Winery.

Stelzle then started Venteux Winery, where he planted dry-farmed Rhones. He retired in 2016 to focus on the Estrella Warbirds museum at the Paso Robles airport. As chief operating officer and chairman of acquisitions and grounds maintenance, he enjoys flying "Betsy," a C-47B World War II paratrooper transport. "Betsy" returned to Europe in 2019 along with a fleet of C-47's as part of the 75th Anniversary of the Normandy Invasion.

In 2021 Taylor convinced Stelzle to come on board and make Cordant wines, working with assistant winemaker Ryker Wall. Wall was assistant winemaker to Anthony Yount at Denner, until Gallo purchased them in 2022. General manager Nikki Smith joined Cordant in 2022, bringing experience from Brecon Estate and Hope Family wines, both in Paso Robles.

Taylor's son Evan, who went to school in Los Gatos, currently lives in Templeton and is the brand ambassador for his family's winery. He recently returned to his old hometown, where he received a warm welcome for the entire portfolio of wines, including the 2021 "Resolution" white Rhone blend, the 2020 Wills Hill Grenache, the 2020 Coastview Syrah, the 2020 "Maniacal" GSM from Luna Matta Vineyard in Paso and the 2020 Cordant Solomon Hills Pinot Noir, farmed by the Miller family of Bien Nacido fame. Cordant also offers a 2021 Bien Nacido Chardonnay.

These head-turning wines are worth exploring at the winery's Tin City tasting room in Paso Robles. A selection of them can also be found locally at La Rinconada Country Club, Forbes Mill Steak House, Rootstock Los Gatos, Enoteca La Storia Los Gatos and 20 Twenty Wine Bar.